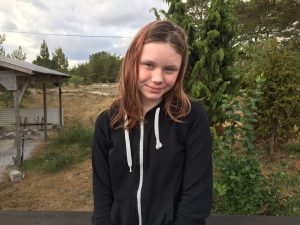 Gudrun Hilmarsdottir is 15, lives in Iceland and is on Fårö with her mother at the NSU summer school. These are her comments on working for and with the children's Circle:
"So I kinda expected it would be harder. I had looked after so many kids at birthday parties, they were always hard to please. I could manage well, but there were always odd ones out. Here it is easier because I am not alone. There are five others working with me. we can split the group so I can do what I am good at doing and others can do other stuff.
We look after 20 kids. It demands teamwork. We did plan the first day but we soon had to improvise and ended up not following the plan. The kids raised issues and so new measures were required. I went outside and played hide-and-seek with some of them. I have never been "it" so many times. We played that game over and over again. That was fun. But then we played hide and tag with no home, so the kids could run and run, and I had to keep chasing them. That was really exhausting. But other times we might for example do more relaxing stuff like drawing.
I really like the environment we are in. In a village there are all sorts of problems about safety but here it is flat and grassy. And there are trees. I do find it interesting that the trees are not just bushes like they are at home, bushes or small trees. Here the trees are much taller, and there are no mountains in the background like there are at home.
Here, one day we took the kids to the sea, once we knew it was safe. Each day we find stuff to do and make it work for all of us. We do have a break at lunch time when the kids go back to their parents and then of course they go back when it's time for dinner. So we are looking after the children in the mornings and the afternoons. In the morning sessions most of the children are super energised but thankfully in the afternoons they seem to be much more relaxed. Obviously some kids will enjoy this sort of situation more than others. Sporty kids, and those who like playing hide and seek. Also those who like playing cards and Creative Kids. Some made light savers improvising with what we could find. In fact being creative is very helpful. Then again some kids just like lying in hammocks.
Overall activities are outdoors. We didn't have video games and that seems kind of a good thing not to have such things, maybe some parents have kids who would like to play on computers so that's something to think about. But we do not teach that is a teacher's job, and we do not do manners, that is the parents job. and if a child is unwell, we take them straight to their family.
The oldest child in the group is 15 and the youngest is 3, her dad was with her, but she was a very social child so maybe her dad could take time off? Age really doesn't seem to matter here, we are all equal. I am enjoying it."
Gudrun interviewed by Bill Thompson 
Photo by Nathalie Fari