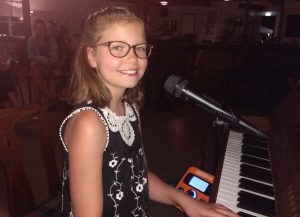 Alma Meretoja has the confidence it takes to get to Carnegie Hall.
Alma expressed her feelings using piano and song in front of a gathering of all those not at the general meeting, including her mom and dad and brother.
The 11 year old composed four pieces for the piano and wrote lyrics for two of them.
Sea of Dreams
From another planet
Aurora Borealis of Sorrows
Shadow in the Darkness
The piano as a means of expression started for Alma when eight years of age. Once smitten, Alma shifted from a private tutor to a Conservatoire, where she was able to explore the advantages of sharing her interest in music with others.
Alma had performed at the conservatory before but this performance was the first to an outside audience. To the obvious pleasure of her proud parents, and a supportive brother, Alma sang and played faultlessly and elegantly to around thirty delegates and workers, silently listening to the soulful notes and phrases, then applauding enthusiastically. A triumph.
I asked Alma how she had such sorrow to express, especially since her family, and indeed Alma herself, seem full of life. Alma thought for a bit, and said that the piano, and the wish to express things that she could not alter in her life, yet affected her, came together in the way we had now shared this evening. The sort of situations many kids face, friends in different classes and the absolute difficulty of finding other kids with similar interests to share time with.
Personally, I hope Alma's way of dealing with sorrows finds a way through to the obvious well of sheer enjoyment she could not suppress whilst waiting in the wings, prior to the performance, and after during this interview. Alma is young, extremely capable, well supported, and if she so chooses could continue to delight audiences with, as she puts it, "the power of art and imagination".
Best wishes Alma.
Photo and text by Bill Thompson