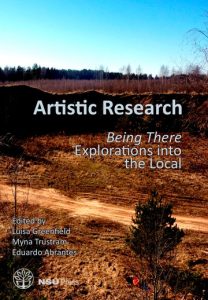 For some of the participants of NSU summer session the day off could have been be spent with the book: with the new anthology from the Circle 7 "Artistic research. Being There. Explorations into the local" https://en.unipress.dk/udgivelser/a/artistic-research-(1)/, which were presented on Wednesday evening by the editors and contributors.
Writing about artistic research is already a form of art practice.
The contributors of this book are dancers, performers, filmmakers, writers, sound-artists, historians, philosophers, theorists and painters.
While English id the common language of Nordic University the native languages of the contributors are Polish, German, Swedish, Norwegian, Portuguese, Finish and English. The editors are American woman living in Berlin, a Portuguese man living in Copenhagen and British woman living in Stockport, England. None of them is Nordic, but they are deeply involved in the long-standing Nordic organization.
Anna Semenova-Ganz