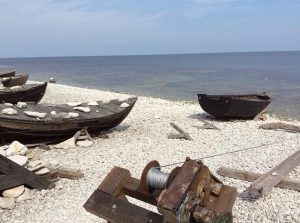 Fårö is an island of small pine trees, dark green vegetation (now with yellow tones because of the draught) and a strong light that bounces off it's white stone. The people of Fårö are even able to cultivate vegetables with a yellow alga used on a stone field as a fertiliser.
Ingmar Bergman had been looking for the perfect location in the 60s for his films all over Sweden and when he visited the island it was love at first died. Not only did he film four of his films here but he also chose to have his second home. He was buried in the church cemetery after dying in 2007, beside his late wife Ingrid. Bergman involved the people in Fårö in most of his films and developed a relationship with the locals throughout his life. Another one of his wives in earlier live, a Finnish pianist, had a house in front of his and came back every summer even after they separated. He married six times and had a child with each of his wives.
Fårö's ferries have women's names. There is a story for each one of them. The people in Fårö have been consulted several times if they would like a bridge to join them with the larger island of Gotland but they've never wanted to. Sea traffic control can often be strict, and it would mean more people and cars easily coming in and out of the island.
Fårö's limestone sea rocks come from formations of the equator during the Ice age, over four hundred million years ago. Minerals found in the island are of high value and there are 35 names for stones that are unique to here. There is also a type of sheep unique to Gotland that exists in the wild here in Fårö.
Sara Ibáñez O'Donnell
Photo by Laura Hellsten