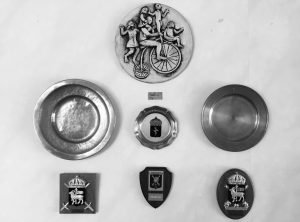 It was hot. The assembly room was half full. There were two rows of circles of chairs like me. I was waiting for one of the delegates to sit on me and was ready for enduring an increase of temperature. Someone had left the agenda on me before the start. Twenty points to discuss. You could feel the heat raising further in the room.
"Do you all have energy for this?" someone said. When we got to point number 15 of the agenda, the one everyone had been waiting for, I could already start to feel the tension rise. The delegate chair, the auditor, the report results. Everything had been accepted except a contract in Swedish, which had to be summarised. The procession of circle presentations started. I heard whispers: "This is an old circle. They are presenting a new proposal".
Most of the presentations happened on stage but the time came for a couple of Skype calls. One of them without a video. The other with two faces speaking on screen. As the session progressed I could feel the eagerness to ask more and more complicated questions but could almost taste the sweat falling down the 'pitchers' as the questions became more and more difficult.
I overheard that this NSU General Assembly had been more competitive than any other one before. This year there are seven proposals for only three places, so inevitably less than half of them will get in. The session came to an end and I felt lonely again. I hope the room temperature is lower next Friday for the voting and that I get to serve as a seat for someone.
The 'empathy' assembly seat
Photo by Nathalie Fari